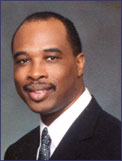 Pastor Randolph is Pastor and Founder of Praise Christian Center World Outreach, Inc. (formerly Praise Community Church founded April 28, 1985). He is a graduate of Cornerstone University of the State of Hawaii with a Bachelor of Theology degree. He is a veteran of the United States Army. Pastor Randolph ministers the Gospel with the simplicity to produce change and growth in the lives of the hearers. He is a man of vision. He is honest, conscientious, sincere and anointed, yet fun-loving. Pastor Randolph is dynamic teacher and expositor of God's Word.
He has done extensive study on the subjects of praise and worship and the kingdom of God.
Pastor Randolph believes that the Word of God stimulates discovery, increases understanding, encourages application and develops and intimate relationship between the Lord Jesus and the believer. This not only gives the assurance of heavenly hope, but also a more abundant earthly life.
He is committed to "Maximizing Lives with the Word of God."